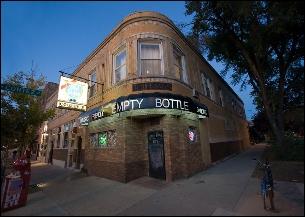 CHICAGO — Digging that the Atticus Books table is near New Directions and Rain Taxi, two alternative presses that set a high bar for the rest of us.
Digging that I'm in one of my favorite cities doing the thing I love, lugging books and surrounding myself with people who swear by the power of ink.
Digging that it's my friend's birthday tomorrow and she and her husband plan to meet me at a reading somewhere in this glorious bar-littered metropolis.
Taking in this whole book fair scene with a pie-eating grin…
After arm wrestling the display rack and setting up multiple copies of 10 Atticus titles (yes, we've reached double digits!), I look at our loaded AWP table and anticipate that we'll have to expand to a booth next year in Boston.
I once read somewhere that a common trait of literary presses is that they don't know where they'll be getting funds to produce their next publication and yet they keep signing authors. All indie publishing is predicated on a dream and an anti-business plan, and is populated by lit junkies who believe they were born to breed printed matter. The only thing that gives us hope is when an unknown entity like Bellevue Literary Press produces a Pulitzer Prize-winning novel (Tinkers by Paul Harding). It's a pipe dream but we like smoking from it. Even if it didn't earn Bellevue millions in sales; the honor of the award alone is enough.
Yeah, I have the hubris to think that I know talent. The kind of talent that oozes from the page when you read it.
It may seem trite to compare a publishing house to a family, but as a publisher, I do feel an enormous responsibility to my authors. Similar to a parent, it's my job to support their growth. I'm excited to see the expressions on the faces of Steve Himmer, Matt Mullins, and John Minichillo tomorrow when they see their respective book covers on the front of matchboxes. Yes, our extra special swag this year at AWP is matchboxes that show off the stellar work of designer Jamie Keenan, who I've kidnapped from the big leagues. If you come to our table (C-16, Southwest) and sign up for Atticus Digest, our monthly e-newsletter, you GET LIT e-mailed to you and get to bring home a limited edition box of matches. And yes, they light candles too.
All right, I need to shower and see if I can drum up the energy to party with some deliriously fine writers at The Empty Bottle tonight. The lineup is killer: Michael Czyzniejewski, Sarah Rose Etter, Jesus Angel Garcia, James Greer, Lindsay Hunter, Jamie Iredell, Michael Kimball, Lara Konesky, Cris Mazza, Mary Miller, Jeff Parker, Sam Pink, Craig Renfroe, Rebecca Roberts, Peter Schwartz, Amber Sparks, Sarah Sweeney, Ben Tanzer, Mike Young & xTX.
Wish me strength!